GLITCH COFFEE&ROASTERS Suzuki Kiyokazu roasts the world's best class Esmeralda Special Geisha Washed!
2023.06.29
Thank you for your continued patronage and patronage of CROWD ROASTER .
The very popular Esmeralda special project has reached its fourth and final installment!
Thank you to everyone who purchased this product.
Starting today, Geisha is roasted by GLITCH COFFEE&ROASTERS Suzuki Kiyokazu as the fourth edition of Esmeralda Special.
This time, we will start selling washed process in extremely limited quantity!
*This is not a roast event, but a product that can be purchased immediately.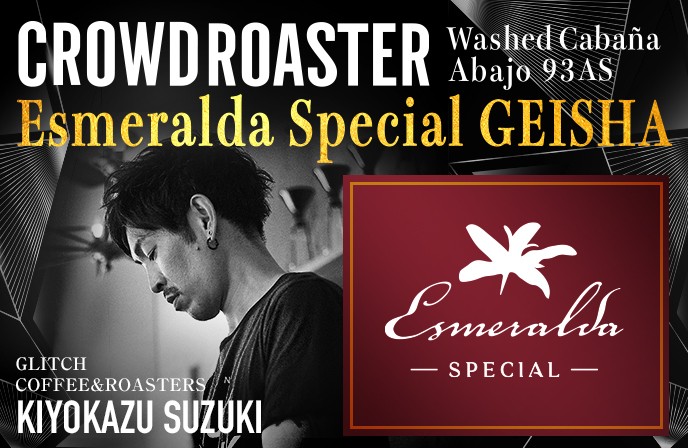 Final 4th edition Esmeralda Special released!
CROWD ROASTER 's Esmeralda special project has been well received since the first edition, but for the memorable final episode, we will have roaster GLITCH COFFEE&ROASTERS Suzuki Kiyokazu , who participated in CROWD ROASTER for the first time, to do the roasting for us. I received it.

This is Geisha , which uses the same selection method as the second washed selection, but from a different section.
By changing the sections, you can enjoy a completely different flavor from the second edition.

The high quality is clearly visible from the green beans stage. Even when cupped with a sample roaster, the overwhelming jasmine scent and clearness that are unique to Geisha Washed are outstanding.
As a result of careful consideration, including CROWD ROASTER 's exclusive cupper, who would be the best roaster to bring out the best taste brought out by a process thoroughly controlled by a farm engineer at a prestigious farm, the final episode was GLITCH COFFEE&ROASTERS We decided to have Suzuki Kiyokazu do the roasting.

The flavors that Kiyokazu brought out this time are "jasmine, honey, and orange."
We have carefully finished it with a ``light roast'' to bring out the delicate flavor of the top class Geisha washed to the maximum.
When I cupped the roasted beans that arrived, I could tell that they were roasted by Mr. Kiyokazu , who is particular about light roasts.
From the moment the beans are ground, the gorgeous aroma reminiscent of jasmine, unique to the world-class Geisha washed beans, spreads overwhelmingly.

The taste is as expected from Esmeralda Farm's top lot Geisha Washed.
Enjoy the refreshing flavors of jasmine and lemon tea from the classic Geisha Washed.
As the temperature cools, a honey-like sweetness emerges, resulting in a very balanced, creamy cup.
You can fully experience the taste of Geisha washed.
Please enjoy the different expressions that change depending on the temperature change.

Nowadays, "Esmeralda Special" is difficult to obtain unless you have a deep connection with Esmeralda Farm.
GLITCH COFFEE&ROASTERS It is no exaggeration to say that CROWD ROASTER is the only place where you can enjoy the combination of Suzuki Kiyokazu 's roasting and the world's best Esmeralda Farm Geisha .
Delivered in special packaging
This time, we will deliver it in a special package that is different from usual.
(*The logo of the "leather sealing" which can be peeled off and used as a coaster is black)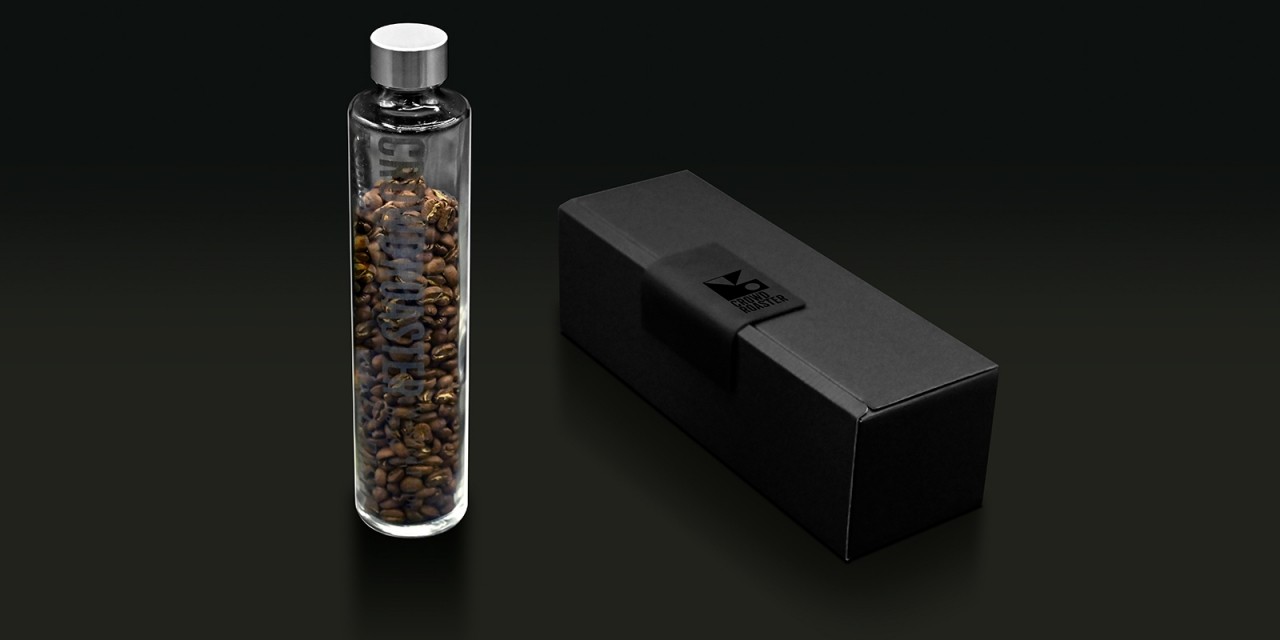 Normally, our products are delivered with coffee beans packed in a pack with a valve, but this time we will deliver the coffee beans sealed in a glass bottle with a special edging process.
The glass bottle prevents unnecessary oxidation and makes it difficult for gas to escape, resulting in a package that allows you to enjoy the fresh aroma for a longer period of time.
We also recommend using empty bottles as storage containers.
The project's logo is engraved with the farm, brand, and section name using laser edging. We will deliver it in a special specification that can only be obtained this time.
A seal made of genuine leather is used to seal the cosmetic case.
CROWD ROASTER logo is stamped on the genuine leather. You can also use the genuine leather as a coaster by peeling it off cleanly.

Don't miss out on this once-in-a-lifetime opportunity!

【Description of item】
■Esmeralda Special Geisha Washed Cavana 93AS
・Sales price: 15,000 yen (tax included)
・Contents: 100g (roasted beans)
*This is not a regular roast event, but a product that can be purchased immediately.
*Products will be shipped sequentially from around June 30th (Friday).
*It will be delivered via Yu-Pack.