Takuya Miura ( FUKUSUKE COFFEE ROASTERY ) participation commemoration! Miura Fukukitaru 1CCC Champion BOX now on sale!
2023.09.07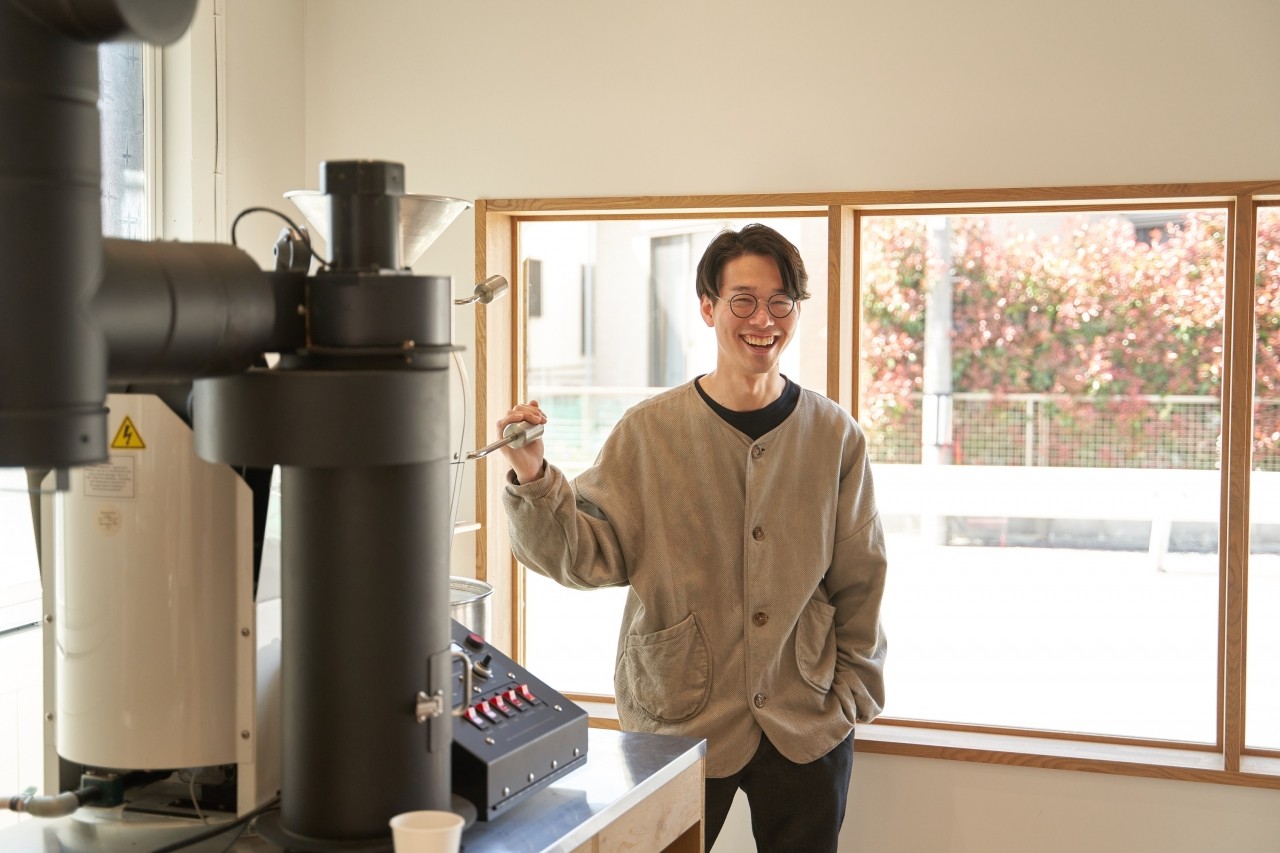 Thank you for your continued patronage and patronage of CROWD ROASTER .

Today, we will be reporting on the participation of a new roaster.
" Takuya Miura roaster ( FUKUSUKE COFFEE ROASTERY )" will be participating as a new member of CROWD ROASTER !
Winner of roasting competition "1st crack coffee challenge"
FUKUSUKE COFFEE ROASTERY is a shop opened in Anjo, Aichi by Takuya Miura , who was the first champion in the first roasting competition ``1st Crack Coffee Challenge'' sponsored by Giessen Japan.

Takuya Miura decided to become a roaster after encountering specialty coffee, studied abroad as a barista in Canada, and trained as a roaster at ROKUMEI COFFEE CO. in Nara before opening a roastery in her hometown of Anjo, Aichi Prefecture.
He has the ability to become the first champion at the ``1st Crack Coffee Challenge,'' a roasting competition hosted by Giessen Japan for the first time in 2022.

One of Miura 's goals is not only to produce high-quality specialty coffee, but also to contribute to the growing coffee industry in regions such as Uganda and Myanmar, which are working to improve quality.

We create a store based on the concept of traditional crafts from the local city of Anjo, and create special cups to energize the region through coffee and bring good fortune to everyone involved in coffee, from customers, families, and coffee bean producers. is creating.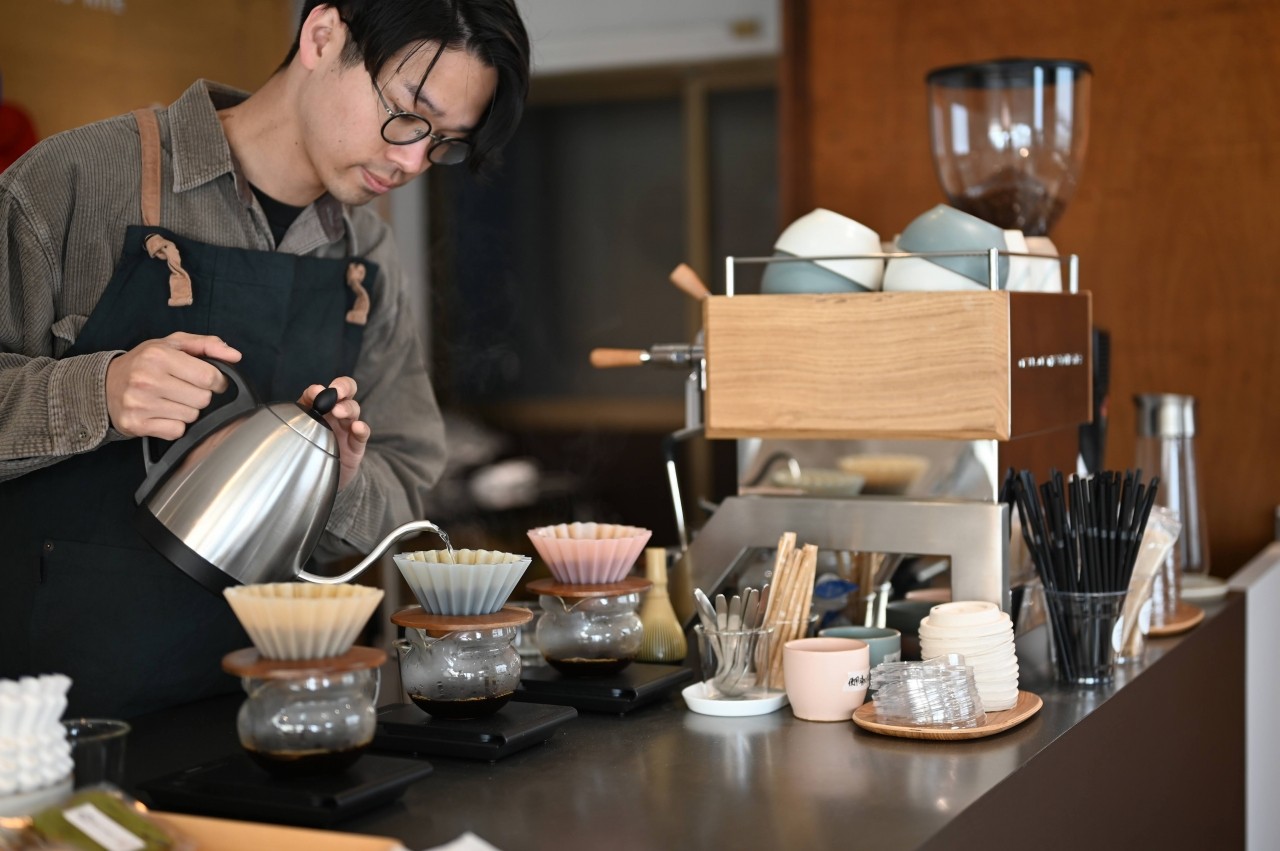 Aiming for "Japanese Roast" that is popular around the world
Miura 's favorite roasting machine is the DIEDRICH IR-2.5.
This is a roasting machine that I inherited from Yasunari Sawanoi of ABOUT US COFFEE in Kyoto, with whom I studied roasting together.
It is said that it is easy to make clear coffee with semi-hot air, single drum, and infrared burner heating method.

Miura 's goal is to roast coffee that is sweet and pleasant to the touch, with maximum flavor characteristics.
By adding the appropriate amount of heat to the beans, the inhibiting factors are removed and the sweetness, mouthfeel, and flavor characteristics naturally develop.

Inspired by the high quality and frustratingly clean coffee of the Dutch roastery he visited as a bonus for winning the ``1st Crack Coffee Challenge,'' he began researching every day with the aim of creating a world-class ``Japanese Roast.'' Continuing.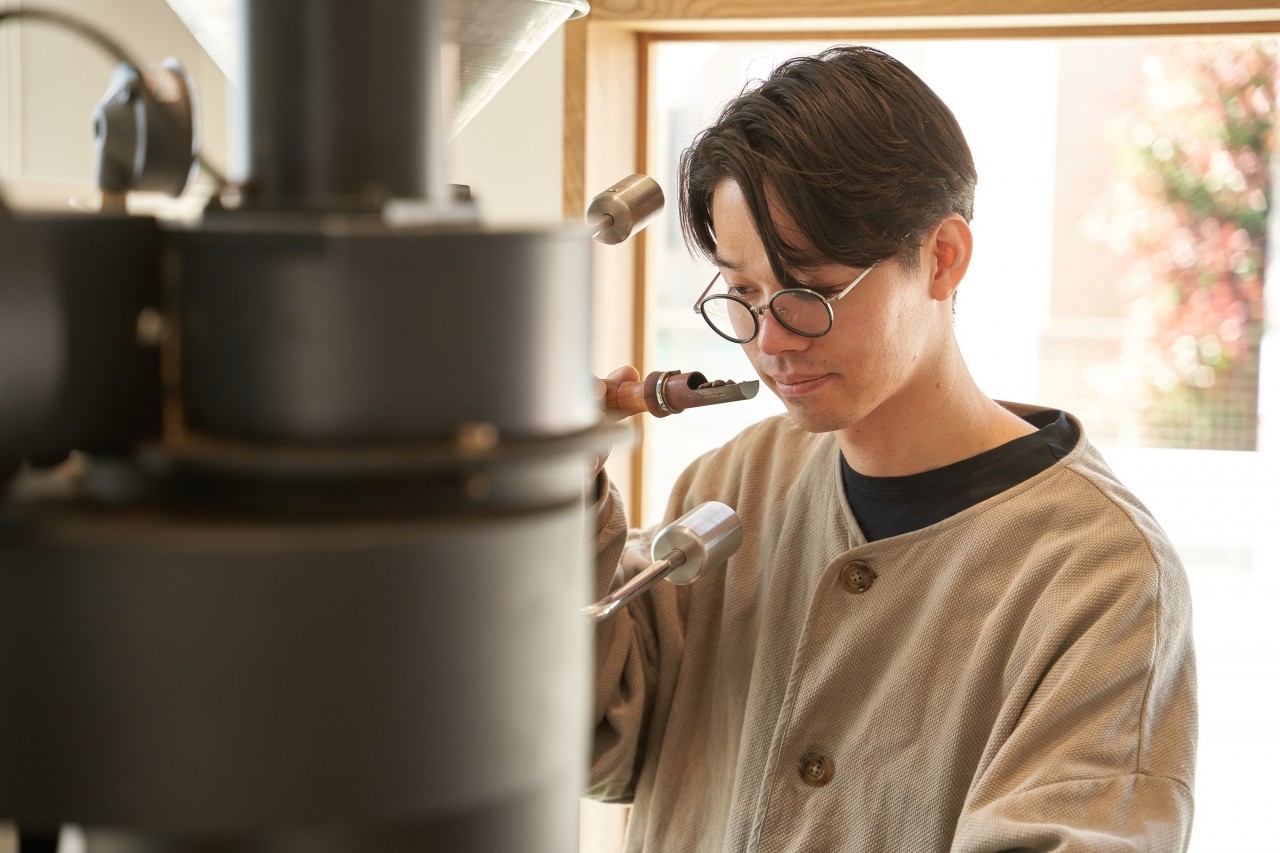 A special drinking comparison set to commemorate participation is now on sale!
To commemorate the participation of Takuya Miura roaster (FUKUSUKE COFFEE), we will be selling a limited quantity of the drinking comparison set (50g x 3 brands) "Miura Fukukital 1CCC Champion BOX"!

This is the first CROWD ROASTER drinking comparison set that is filled with Miura 's passion.

This time, we carefully considered the compatibility of brands with Miura and selected three brands with rich individuality.
The selected teas were "[CSRT] Colombia/El Paraiso Farm/ Castillo /Double Anaerobic Rose Tea", "[GJE] Ethiopia/Guji/Ethiopia/Natural", and "[KKW] Kenya/Tim Factory/ SL28 /Washed". " 3 brands.
We have prepared a comparison set of drinks with different varieties, selections, and countries of origin.

This set was named ``Miura Fukukital 1CCC Champion BOX'' to reflect Miura 's desire to deliver ``good fortune'' through roasting.
As the name suggests, please experience a blissful time with the taste that only Miura can create.

[CSRT], as its name suggests, has a variety of fruit flavors such as rosehip, strawberry, and peach.
[GJE] is exactly strawberry! The aftertaste has a milk chocolate-like sweetness, giving the impression that it is well-balanced and enjoyable.
[KKW] has juicy flavors such as blackberry and citrus, and you can also enjoy the gentle sweetness of Wasanbon, so you can enjoy it until the end without feeling exhausted.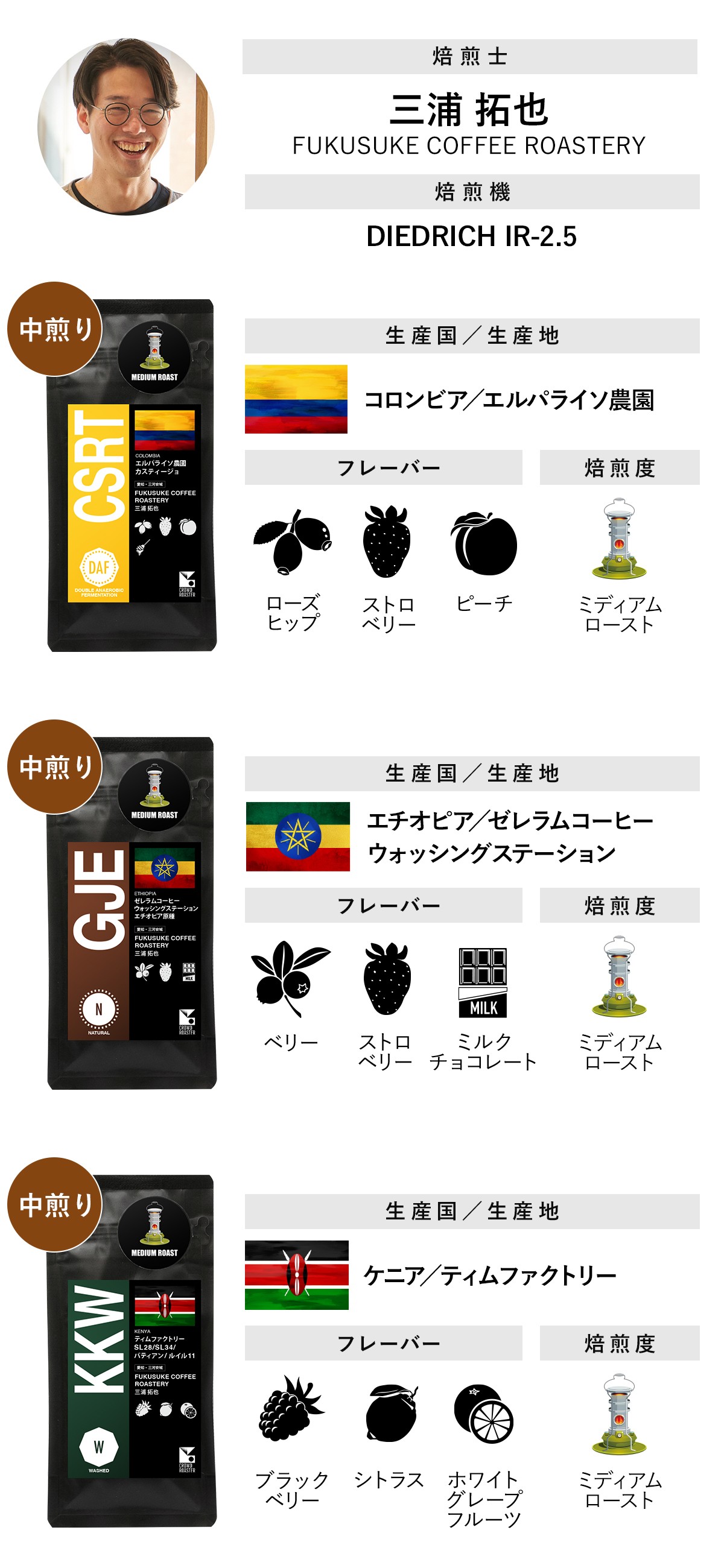 All brands are coffees with a pleasant texture and distinct flavor characteristics.

Please purchase this special package, which is available in limited quantities, and fully enjoy the taste that Miura aims to bring you the "fortune."

【Description of item】
■Miura Fukukitaru 1CCC Champion BOX
・Sales price: 2,480 yen (tax included)
・Contents: 50g x 3 bags, total 150g (roasted beans)
*This is not a regular roast event, but a product that can be purchased immediately.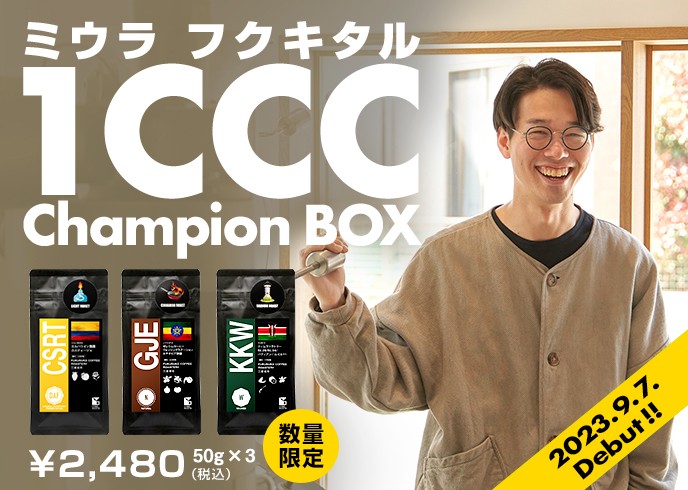 2023.09.07
CROWD ROASTER