CROWD ROASTER app has started selling [ CROWD ROASTER EX] "Roasted beans that can be delivered right now." I would like to tell you about how to enjoy this [ CROWD ROASTER EX] in several articles.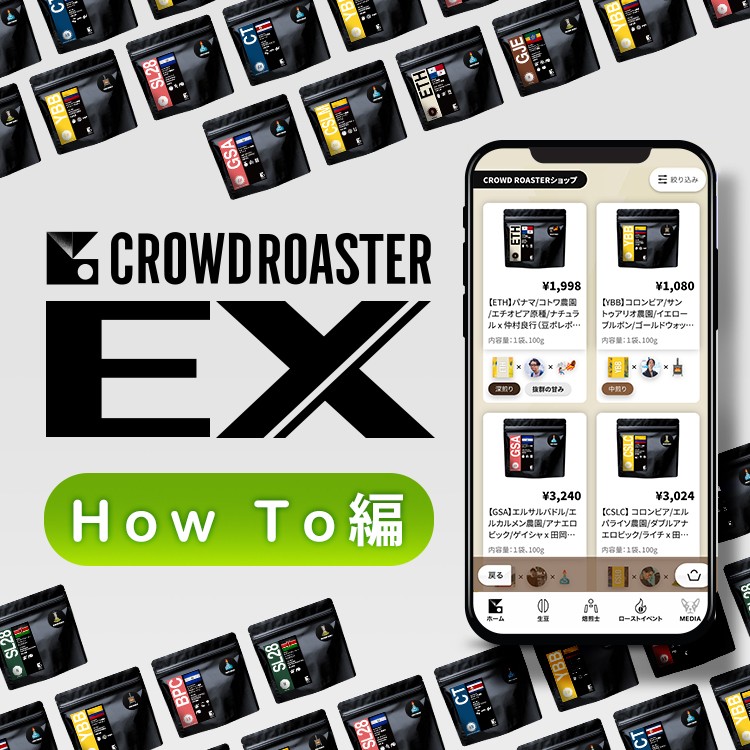 Features of [ CROWD ROASTER EX]
[ CROWD ROASTER EX] sells CROWD ROASTER limited coffee beans (roasted beans) within the app's "SHOP".
You can order coffee roasted by Japan's leading roasters, including rare brands sold at CROWD ROASTER , including limited lots available only here and coffee from world-famous farms.

This combination of brands and roasters creates coffee that can only be purchased at CROWD ROASTER .
In addition, various combinations of coffee are available, such as the same brand (same lot) roasted by different roasters. All quantities are limited, but if your timing is right, you can enjoy comparing drinks from different roasters.

This tasting experience is unique to CROWD ROASTER and cannot be enjoyed at other coffee shops or coffee e-commerce sites, so I encourage you to give it a try.
I want to know how to order and check information!
Now, I will tell you how to order [ CROWD ROASTER EX].

First of all, if you do not have the CROWD ROASTER app, please download it from the APP STORE/Google Play Store and register as a member (WEB APP is available for PC users).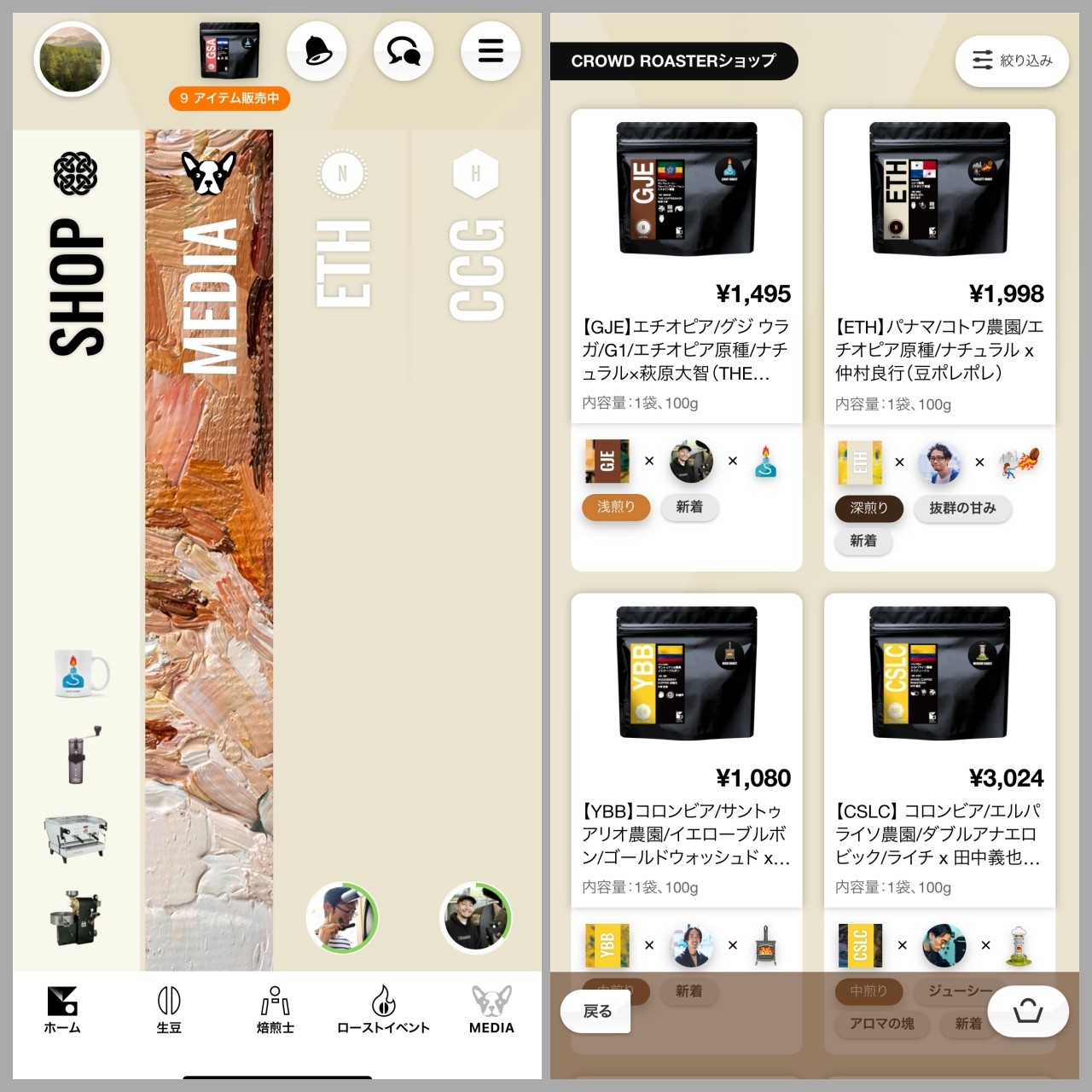 <App home screen (left) and SHOP product details screen (right). Each icon below the product name can be tapped>
The app's home screen is lined with color bars. If you tap the "SHOP" bar, you can see a list of coffee beans (roasted beans) currently on sale.

Products from other genres are also displayed here, but if you click the "Narrow down" button in the top right corner and check " CROWD ROASTER EX" under "Product Type", you will only see a list of coffee beans on sale. can do.

Additionally, if you tap the package icon at the top of the home screen, the four new products will be displayed, and you can also display a list of coffee beans currently on sale by clicking the "Go to the list of roasted beans that will arrive now!" button. can.

In the list, the package Shin , price, and product name are displayed. The product name is "coffee brand ([brand abbreviation] country/region of production, farm name, variety name, selection method, etc.) x roaster's name."

You can check the details by tapping on the product.

An icon is displayed below the product name. They are arranged in order of brand, roaster, and degree of roasting. Tap each to display a sorted list. Are there any products on sale with the same brand? This is useful when you want to know something.
Tags are also displayed for roast level and characteristics. We will introduce the tags that represent special characteristics in more detail later.
How do I read the product details screen?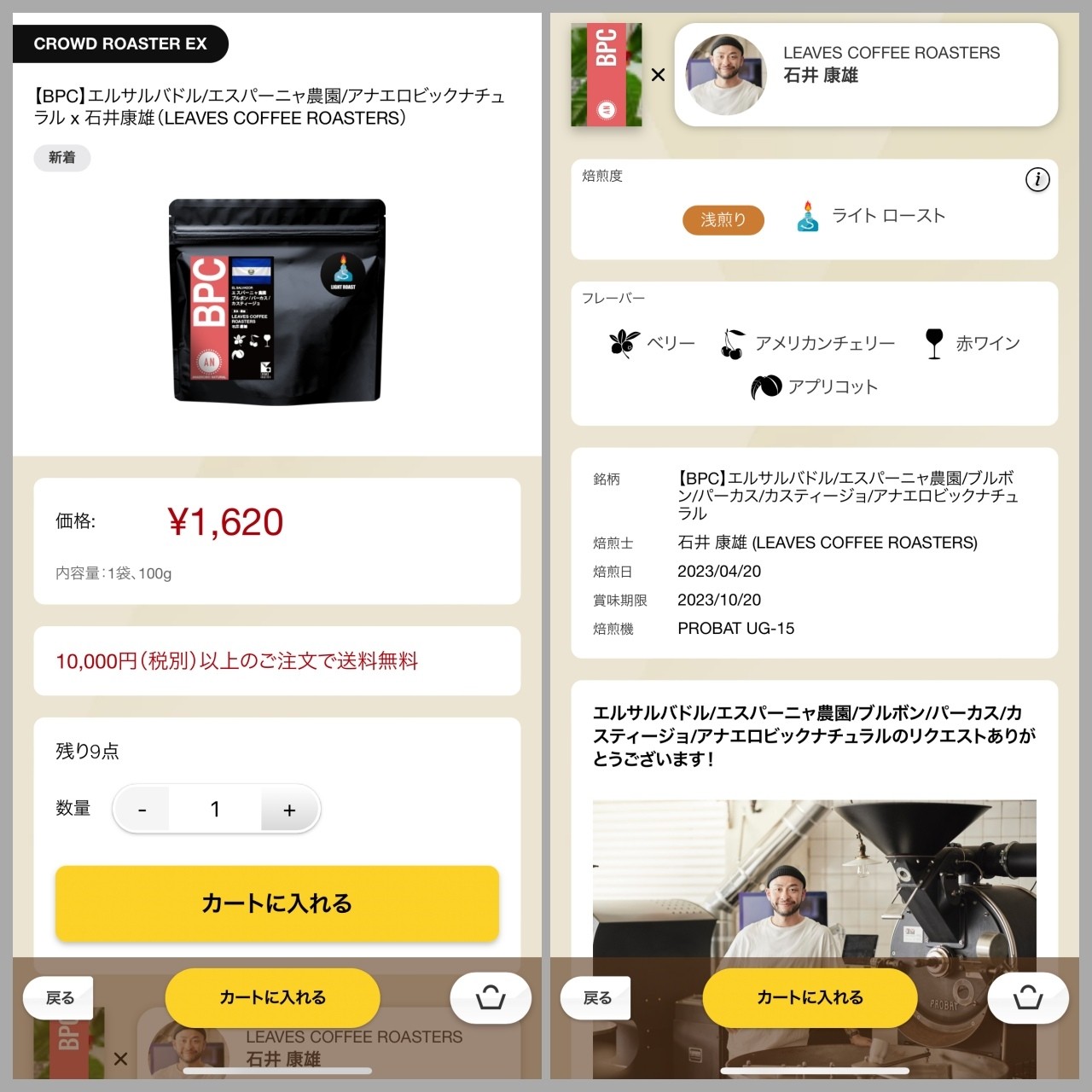 <Product details screen upper part (left) and lower part (right). You can tap the Shin brand icon and roaster icon on the right to view details.
Tap a product to open the product details page. You can check more detailed information here.

You can proceed with your order by clicking the Add to Cart button. Payment methods are credit card and Bitcoin.

By tapping the stock icon (color and 3-letter abbreviation) in the middle of the page, you can open more detailed information about that stock.
Also, if you tap the roaster's Shin icon next to it, you will be introduced to the roaster in detail.

Below that, information such as roast level, flavor, roasting date and roasting machine used are displayed, and below that you can see comments from the roaster in charge.

In this way, you can check detailed information about coffee brands and roasting, so please use it as a reference.

Up to this point, we have specifically explained the information that can be checked in the app. In addition, we will continue to provide detailed information on how to select products.