Congratulations, new roaster joins! Yuya Kosakada ( Raw Sugar Roast )
2023.07.25
Yuya Kosakada ( Raw Sugar Roast ) participation commemoration!
KOSAKADA Sugary BOX now on sale!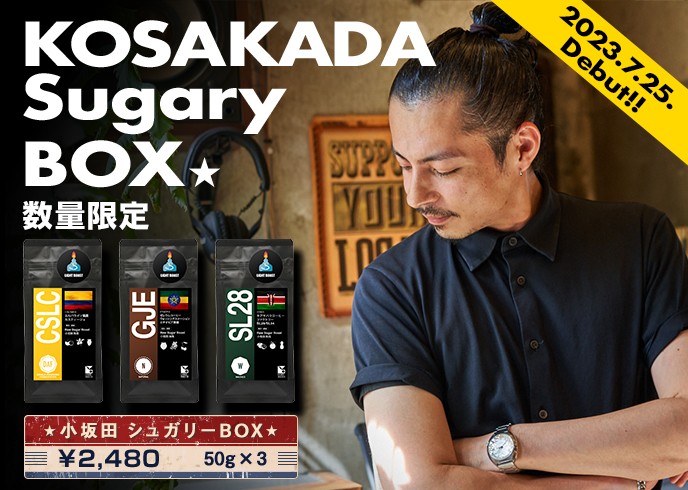 Thank you for your continued patronage and patronage of CROWD ROASTER .

This is a report of the participation of a new roaster.
" Yuya Kosakada roaster ( Raw Sugar Roast )" will be joining CROWD ROASTER as a new member!
An up-and-coming roaster that has made a dashing appearance in Tokyo's coffee scene.
Yuya Kosakada studied at world barista champion Paul Bassett's shop and worked as a barista at GLITCH COFFEE & ROASTERS, a famous light roast restaurant in Jimbocho, Tokyo, from its launch.

Mr. Kosakada wanted to further develop coffee culture, so he changed from being a barista to a roaster in order to convey the appeal of specialty coffee to as many people as possible.

Raw Sugar Roast was opened in 2022 with Masashi Oda, who had experience both domestically and internationally.
As the last anchor continuing from the production area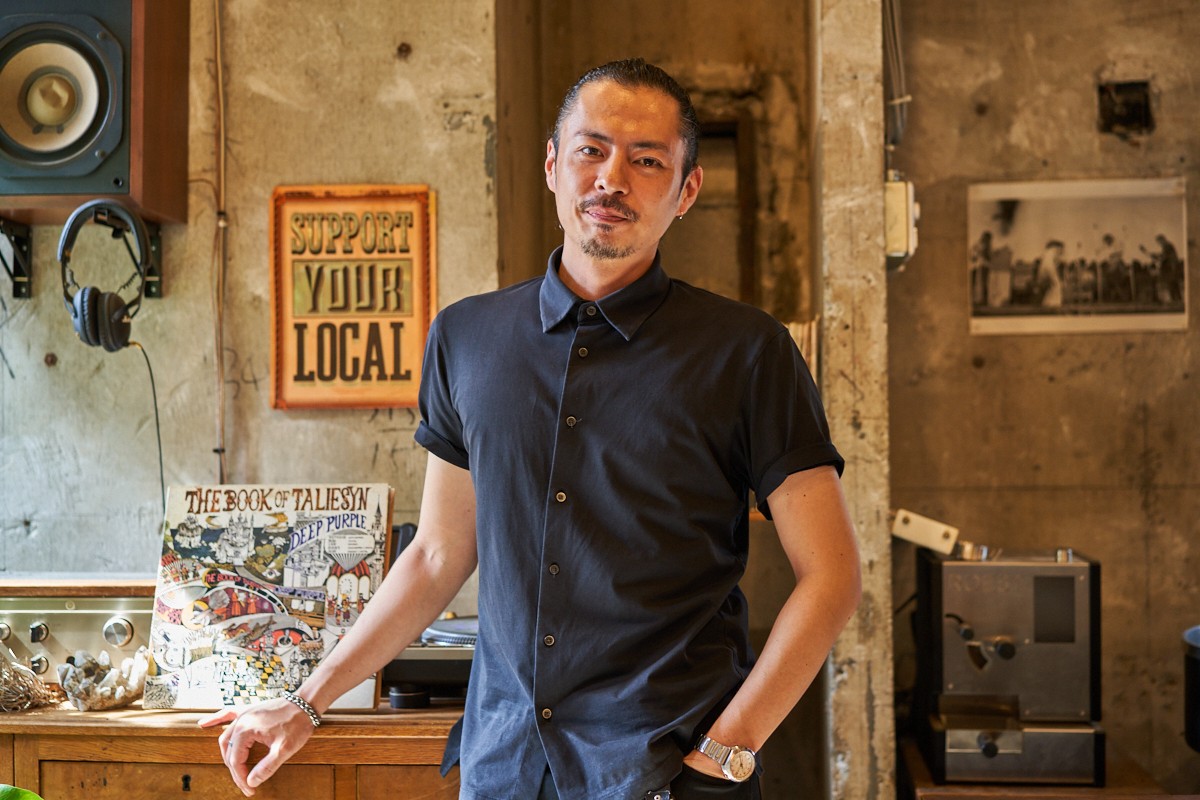 Mr. Kosakada 's roasting process does not produce ``just delicious coffee'' with monotonous flavors and easy-to-understand tastes, but rather ``coffee that you can enjoy'' with a complex interweaving of the flavors derived from the coffee's original varieties and terroir. .

Mr. Kosakada aims to ``create a flavor that will convince drinkers with just one bite,'' as a way to convey the appeal of coffee to as many people as possible.

The roasting machine uses Giessen, which has high heat storage properties and can create flavor and express a rich mouthfeel. We carefully create detailed profiles down to the second and never miss the point of maximizing the characteristics of coffee.

We maintain a stance of roasting as an amplifying circuit for flavor creation, which continues from the thoughts of the production area and the producers.
Celebration participation commemorative drinking comparison set now on sale!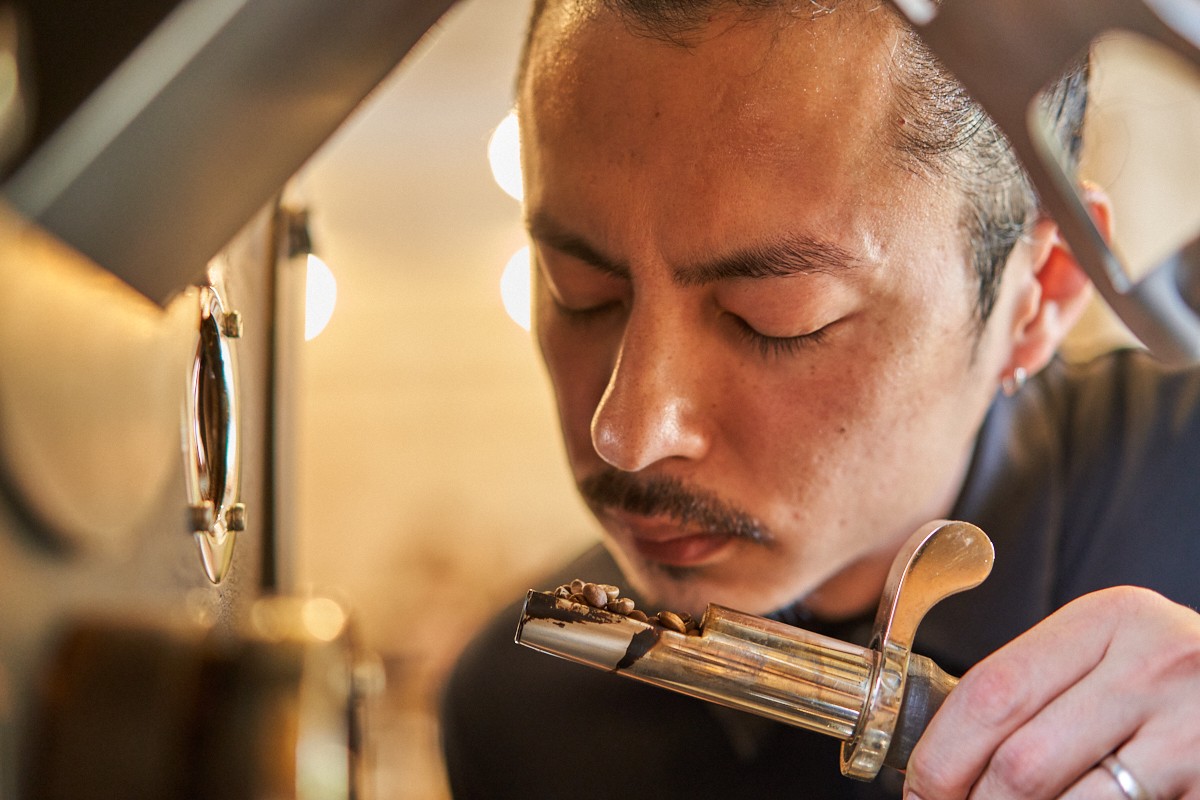 To commemorate the participation of Yuya Kosakada roaster ( Raw Sugar Roast ), we will start selling a limited quantity of the drinking comparison set (50g x 3 brands) "KOSAKADA Sugary BOX"!
This is the first CROWD ROASTER drinking comparison set, which is filled with Kosakada 's passion.
This time, we carefully considered the compatibility of the stocks with Mr. Kosakada and selected three brands with rich individuality.
The selected products are "[CSLC] Colombia/El Paraiso Farm/ Castillo /Double Anaerobic Lychee", "[GJE] Ethiopia/Zelerum Washing Station/Ethiopia/Natural", and "[ SL28 ] Kenya/Kiama Rose/ SL28 /Washed" 3 brands.
We have prepared a comparison set of drinks with different varieties, selections, and countries of origin.
The other day, we cupped roasted beans that we received from Mr. Kosakada at the management office, and while we could fully enjoy the unique characteristics of each brand, we also enjoyed the outstanding taste brought out by Mr. Kosakada 's roasting technique. I could strongly feel the sweetness and clearness.
This set is named ``KOSAKADA Sugary BOX'' to symbolize Kosakada 's passion for sweetness and roasting that allows you to fully enjoy the rich flavors that bloom gently.
As the name suggests, you can experience the outstanding sweetness that only top-class coffee can have, created by the highest-class coffee and the techniques of top-class roasters.
[CSLC] is characterized by an overwhelmingly strong, refreshing flavor like lychee and a rich sweetness like strawberry jam.
[GJE] has a sweet and sour taste similar to blackberry, wrapped in a gentle and clear sweetness.
[ SL28 ] has the richness of blood orange, yet you can enjoy the refreshing acidity!
Each brand has a different personality, so it's a very fun drinking comparison set.
By purchasing this set, you will be able to feel Kosakada 's passion for roasting and coffee.
Please purchase this special package, which is available in limited quantities, and fully enjoy the extremely sweet coffee roasted by Kosakada .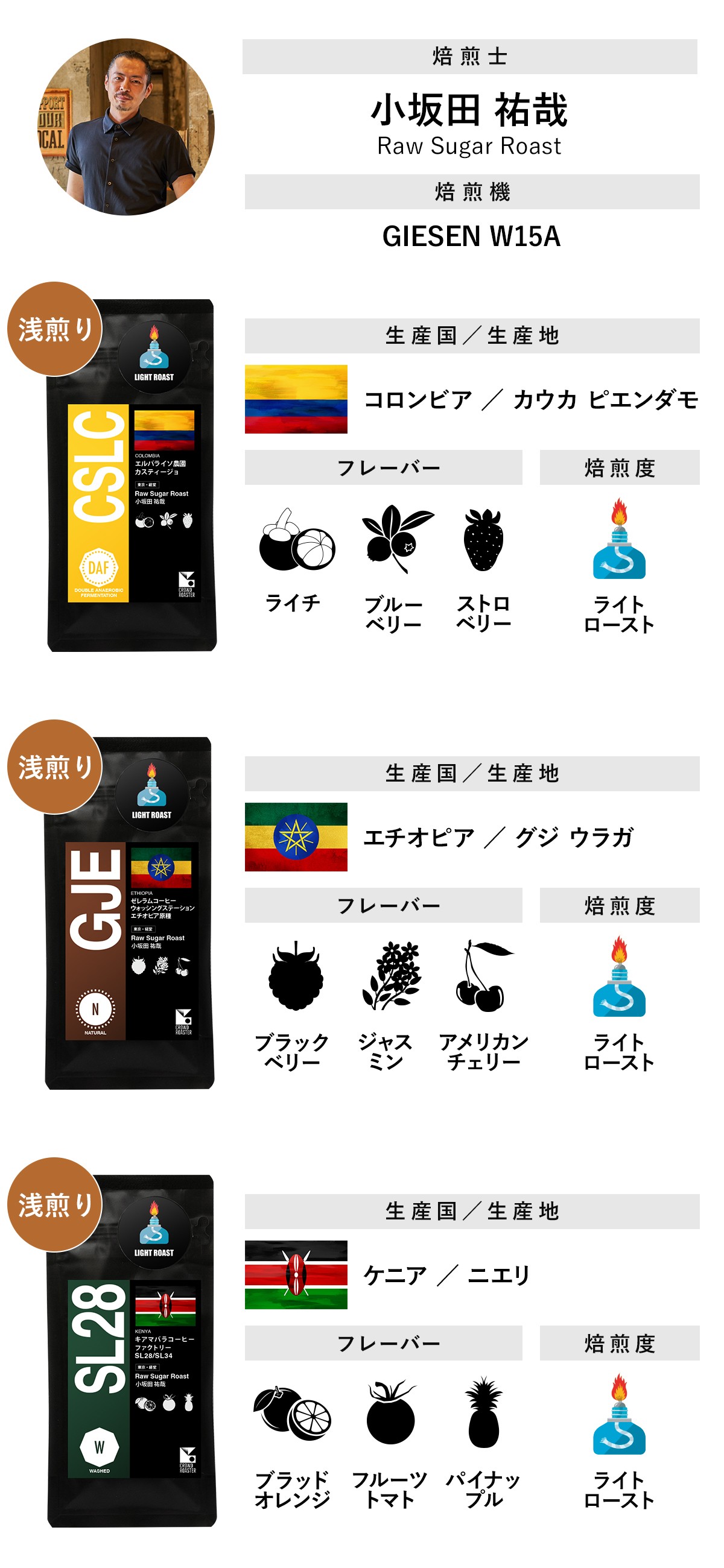 <Product details>
・Product name: KOSAKADA Sugary BOX
・Sales price: 2,480 yen (tax included)
・Contents: 50g x 3 bags, total 150g (roasted beans)

*This is not a regular roast event, but a product that can be purchased immediately.