The Ethiopian original variety from the famous Cotowa Farm in Panama, which was sold out due to popularity, is back at CROWD ROASTER !
2022.11.22
Solflare (Headquarters: Chiyoda-ku, Tokyo, Representative Director: Jiro Sekiba) is offering a lineup of coffee from one of Panama's most famous farms, ``Panama Cotowa Farm Ethiopian Original Breed Natural'', on `` CROWD ROASTER '', a cutting-edge online platform where you can experience new coffee. added to.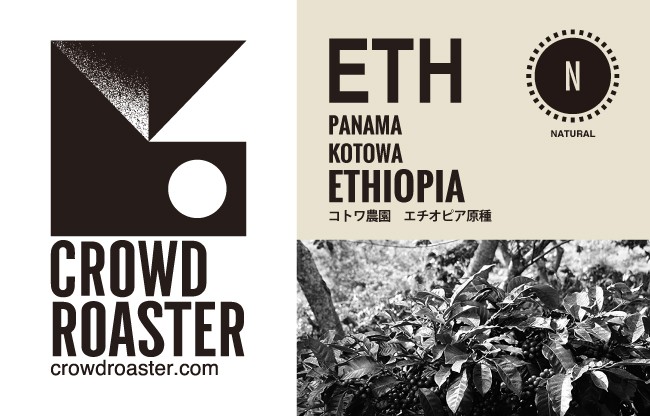 " CROWD ROASTER " is the only app that allows individuals to directly request Japan's leading roasters to roast their favorite coffee beans.

This time, we have started selling specialty coffee beans again, which had become very popular on the app and was no longer on sale. This is a rare coffee that is made from Ethiopian seeds grown at Cotowa Farm, one of the most famous farms in Panama, and can only be drunk here.

" Panama Kotowa Farm Ethiopian Original Breed Natural "

Cotowa Farm, which spreads out at the foot of the Baru Volcano in western Panama, is a historic farm founded by Mr. McIntyre in 1918. It has won awards at numerous competitions, and the name "Kotwa" is well-known as a brand. The exotic and very impressive coffee that was born here is from Ethiopia. It is characterized by the acidity of berries like blueberries and strawberries, and the sweetness of milk chocolate with a long aftertaste. Please enjoy the unique taste.

■ What is CROWD ROASTER ?

CROWD ROASTER is a unique application that connects top roasters, producers around the world, and coffee lovers who love coffee. As the wave of the digital revolution is coming to coffee distribution, this is a cutting-edge platform created to help you enjoy the best coffee, including meetings with local farms and roasters via the internet.
CROWD ROASTER is attended by top roasters representing Japan.
<Participating roasters>
Suzuki Kiyokazu ( GLITCH COFFEE&ROASTERS )
Ishii Yasuo ( LEAVES COFFEE ROASTERS )
Yoshiyuki Nakamura ( mamepolepole )
Yuya Iwasaki ( TAKAMURA COFFEE ROASTERS )
Masakuni Sakata ( KOTO COFFEE ROASTERS )
Kihara Musashi ( WOODBERRY COFFEE )
Nakamura Keita ( LiLo Coffee Roasters )
Mikami Hitomi ( Roast Design Coffee )
Tomomichi Morifuji ( RED POISON COFFEE ROASTERS )
Onishi Masahiro ( SWITCH COFFEE TOKYO )
Taoka Hideyuki ( TAOCA COFFEE )
Fujiyama Hiroyasu ( FUJIYAMA COFFEE ROASTERS )
Tanaka Yoshiya ( SPARK COFFEE ROASTERS )
Shin Sano (ROASTERIA ORCHARD)
Koike Tsukasa ( COFFEE VALLEY )
Babaguchi Kenta (B SQUARED)
" CROWD ROASTER " app (free distribution)
Compatible OS: Android 9 or above, iOS 12 or above
Download URL:
https://crowdroaster.com/