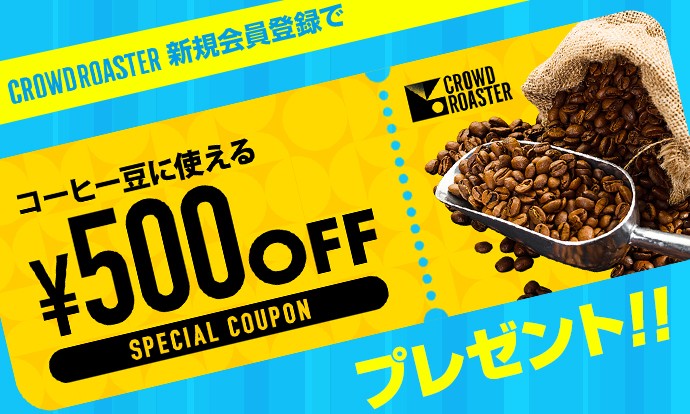 We will give you a 500 yen OFF coupon that can be used on your favorite coffee beans when you register as a new member!
CROWD ROASTER has started a campaign in which everyone who registers as a new member during the period will receive a 500 yen OFF coupon that can be used on your favorite coffee beans!
If you have friends who are not yet users, please take this opportunity to invite them!

This coupon can be used for three functions.

① Participate in roast event
It can be used for the "Roast Event" which is the best part of enjoying CROWD ROASTER .

A new coffee experience where Japan's most famous roasters roast just for you.
There are many combinations, and you can choose from a wide variety of options.
Find a combination of roaster and brand that interests you and participate in a roast event.

② " CROWD ROASTER EX" where you can get roasted beans right away
You can also use CROWD ROASTER EX, which delivers roasted beans right away.
You can easily purchase rare specialty coffee roasted by Japan's top roasters.
Recommended for those who want to try it before a roast event, or those who want to have a fun coffee time right away.

③ Add raw beans to the app
It can also be used to purchase green beans that can be used at roast events.
At CROWD ROASTER , we have set our own quality standards for specialty coffee and handle carefully selected rare green beans.
Purchase the brands you are interested in at a great price and organize your own roast event.
■Example of coupon usage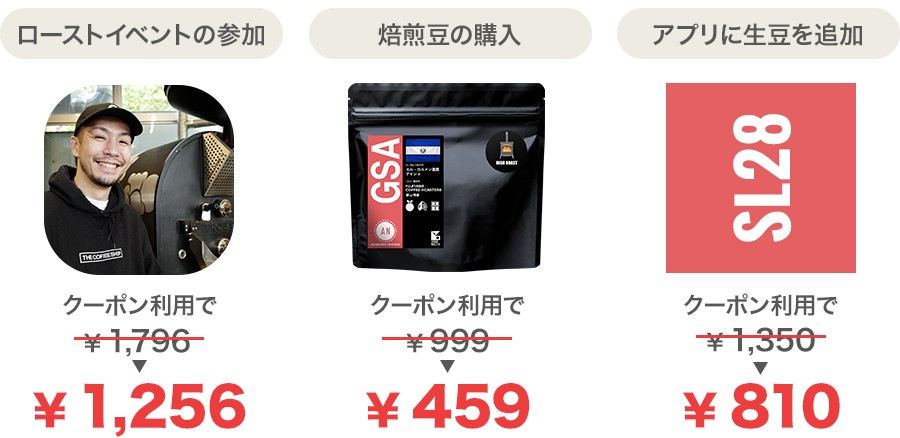 *Price may differ from the actual product.
Don't miss this opportunity to try the carefully selected specialty coffees brought to you by CROWD ROASTER at a great price!