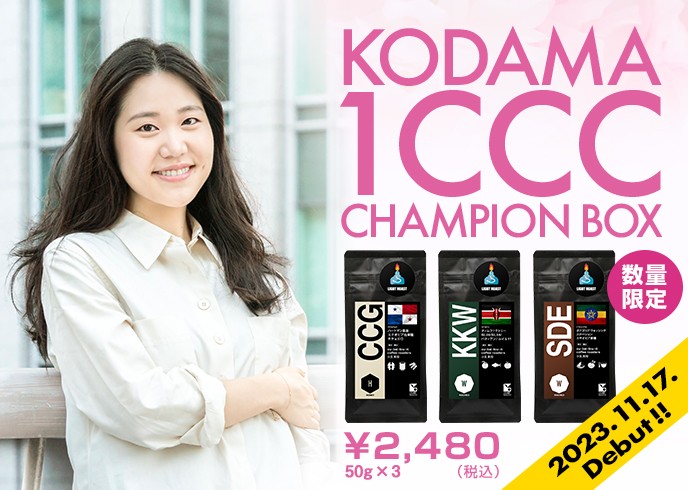 Today's article has some great news!
We have decided that Machi Kodama (ou.bai.tou.ri.coffee roasters) will be participating as a new member of CROWD ROASTER !
An up-and-coming young roaster who won the Giessen Japan roasting competition
`` ou.bai.tou.ri coffee roasters '' is an in-house roaster that specializes in light roasting specialty coffee that opened in 2020.

Mr. Kodama , who serves as the head roaster, became interested in roasting through his experience as a barista and roaster, and honed his skills through self-teaching.
This is an up-and-coming roaster that is gaining attention after winning the roasting competition "1st Crack Coffee Challenge 2023" sponsored by Giessen Japan.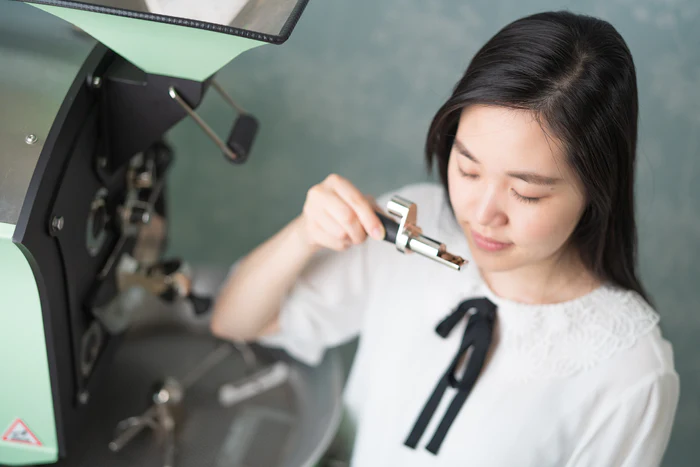 The store's name, ``ou.bai.tou.ri'', reflects the desire to hone the individuality of each coffee bean through roasting. Focusing on online sales, we deliver coffee with a fruit-like soft sweetness and gorgeous flavor to all over the country.
Commemoration of participation! 3 brands drinking comparison set now on sale!
To commemorate the participation of Machi Kodama (ou.bai.tou.ri.coffee), we will be selling a limited quantity of the drinking comparison set (50g x 3 brands) "KODAMA 1CCC CHAMPION BOX"!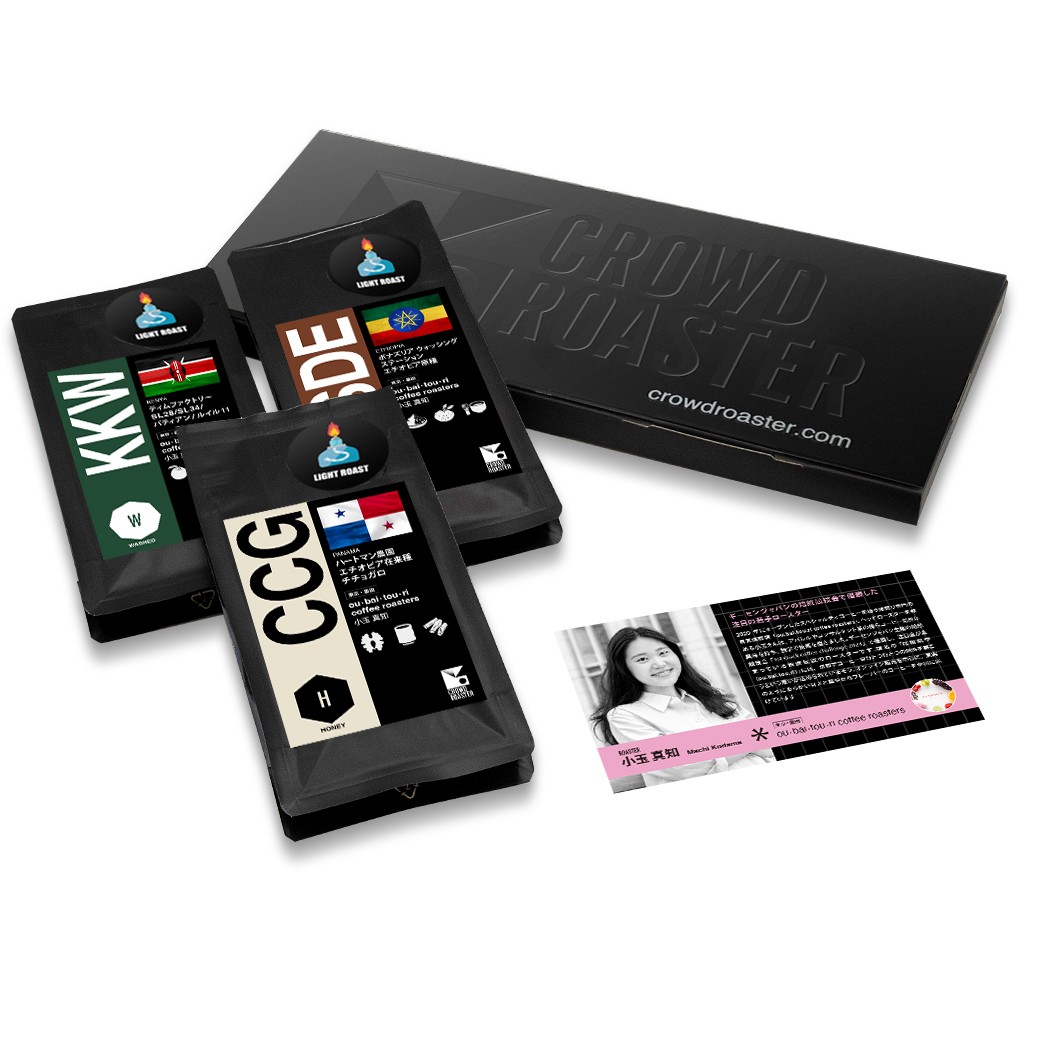 This is the first CROWD ROASTER drinking comparison set that is packed with Kodama 's commitment.

This time, we carefully considered the compatibility between Kodama and the brands, and selected three brands with great individuality.

The selected ones are "[CCG] Panama/Hartman Farm/Chichogaro/Honey", "[KKW] Kenya/Tim Factory/ SL28 /SL34/Batien/Ruiru 11/Washed", and "[SDE] Ethiopia/Sidamo/Bensa/Bona Zuria/G1/Washed ''.

This set was named ``KODAMA 1CCC CHAMPION BOX'' after Kodama 's history of winning the ``1st crack coffee challenge'' competition sponsored by Giessen Japan.
Enjoy Kodama 's fruit-like soft sweetness and gorgeous flavor.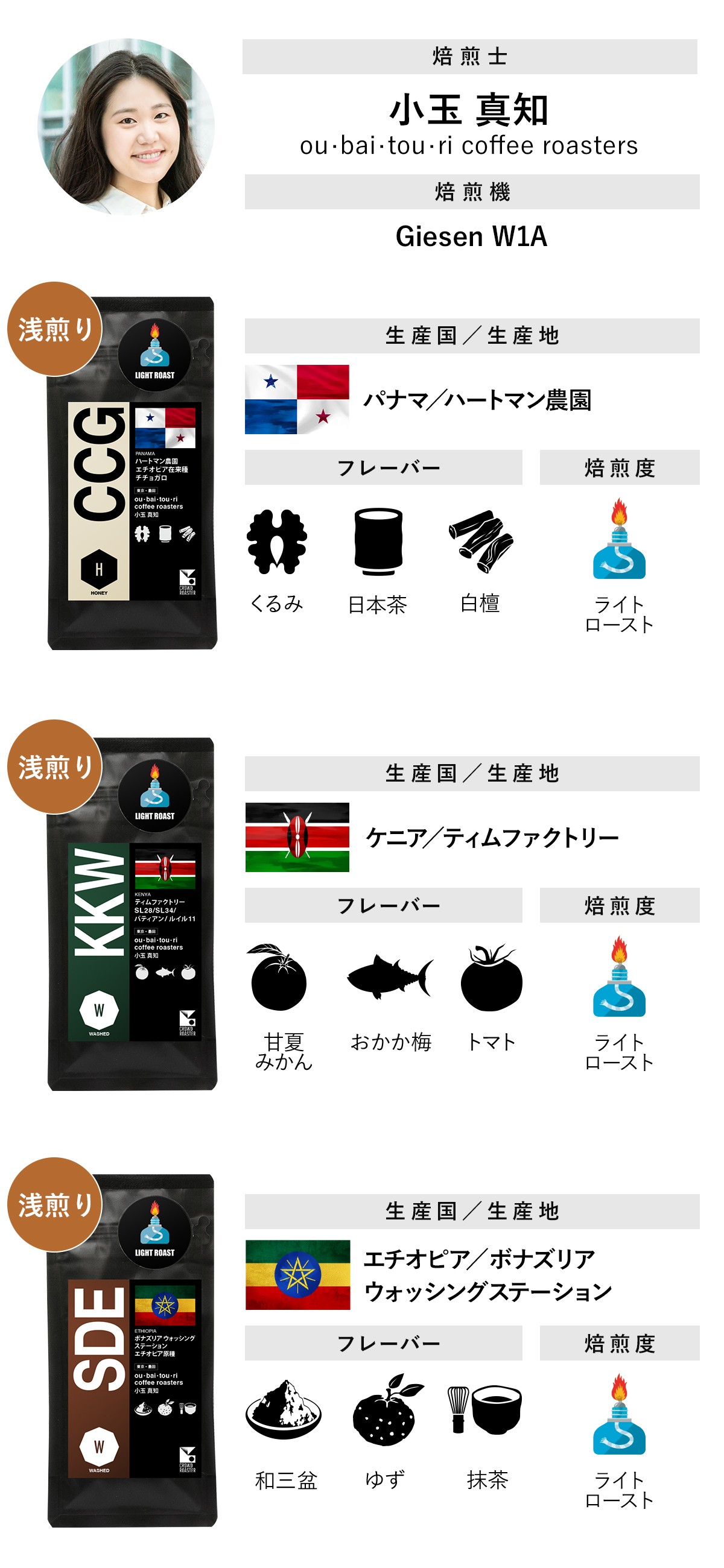 [CCG] is impressive with its fragrant walnut-like flavor and gentleness reminiscent of Japanese tea. You can enjoy the flavor that is faintly reminiscent of carefully selected sandalwood.
[KKW] is a cup with an excellent balance of flavor and acidity. It has a distinctive taste that anyone can enjoy.
[SDE] has a gentle sweetness similar to Wasanbon when it's warm. As it cools down, it has a freshness reminiscent of yuzu.

For Kodama , roasting is like a work of art that expresses the emotion of deliciousness and the elegance of coffee through the medium of coffee carefully made by the producers.

Enjoy the coffee filled with Kodama 's passion with this set!
Quantities are limited, so please purchase as soon as possible!